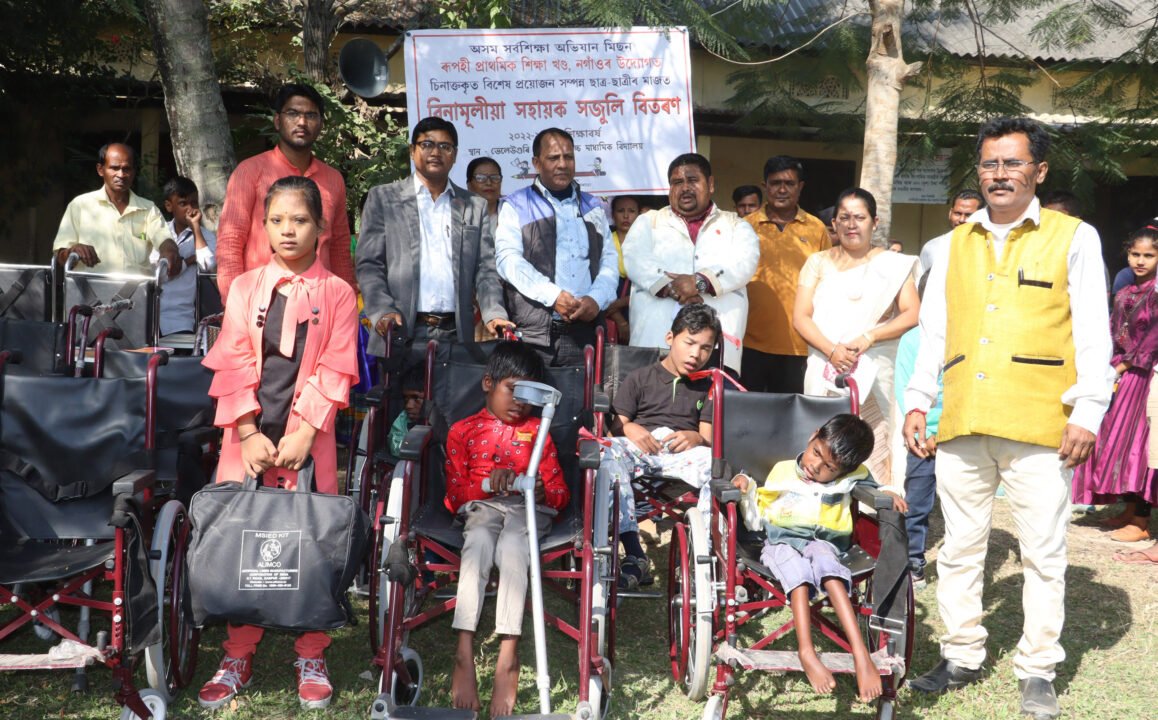 HT Bureau
Guwahati, Dec 3: Commemorating the 'International Day of Persons with Disabilities', the airport operator of LGBI Airport, Guwahati has introduced a special facilitation desk on Saturday at the departure forecourt for serving the passengers with reduced mobility. Passengers with disability can easily access the counter for necessary support and facilitation. The counter was inaugurated by Utpal Baruah, chief airport officer, Guwahati International Airport Limited in presence of senior airport officials, Commandant CISF, station managers of airlines operating from LGBI Airport and other airport professionals. J.P. Sahariah, principal-director, Purvottar Institute for Persons with Disability and students from the institute were specially invited to airport on the occasion. Subsequently, students from the institute performed a cultural show in the departure lounge and mesmerised the audience and passengers. IndiGo airlines also participated in the event and felicitated the students with disability.
Our Jorhat correspondent adds:
On the occasion of 'International Day of Persons with Disabilities', the District Legal Services Authority (DLSA), Jorhat has launched a month-long awareness programme on rights of specially-abled persons and various Government benefits available for them under different schemes.
DLSA secretary-cum-judicial officer Devojyoti Bhuyan informed that a handbooks titled 'Nyay Sarathi' relating to the acts, facilities and schemes of the specially-abled persons was also released by chief judicial magistrate, Jorhat, Vijay Singh at the Jorhat judicial court  premises.
Bhuyan said that a team comprising few lawyers, DLSA staff, para-legal volunteers, Anganwadi workers and Jorhat Law College students visited the residence of 10 specially-abled persons of different locality of Jorhat and aware them and their guardians of their rights and protection, including facilities and schemes meant for them (specially-abled).
The DLSA secretary stated that the campaign would continue for a month under which visits to residences of specially-abled persons would be made.
Our Demow correspondent adds:
The Samagra Siksha Abhiyan (SSA) Sivasagar district, under the initiative of Demow Education Block in association with Block Guardian Committee, the 'International Day of Persons with Disabilities' was observed in Demow Girls High School on Saturday. As per the schedule, the programme started with cleanliness drive which was followed by flag hoisting, 'smriti tarpan', saplings plantation. Cultural programmes were organised among students and a discussion was also organised among students. A health camp was organised on the occasion. An open session was held where the divyangs were given the things which are required for them. Moreover in order to encourage the divyangs, they were presented an award. Subhan Gowala, district development commissioner (DDC), Sivasagar district and Kamal Gogoi, School inspector of Sivasagar district were present in the programme as chief guests. Tamashini Barua, Professor in DIET, Sonari, Sivasagar was present in the programme as specific orator. The doctors, health staffs along with other dignitaries were present in the programme.
Our Kokrajhar correspondent adds:
The Social Welfare department of Bodoland Territorial Region (BTR) Government distributed aids and appliances among differently abled persons coinciding with the observation of 'International Day of Persons with Disabilities' on Saturday which was held at Choto Molandubi along with rest of the State in Kokrajhar.
The observation was organised by Social Welfare department of BTR in association with All BTR Disability Adhikar Surakha Mancha and All BTR Disability Welfare Development NGO.
Several aids and appliances like tri-cycle, wheel chair, hearing aids were distributed among needy differently abled persons which were sponsored from Social Welfare department of Bodoland Territorial Region Government.
Deputy chief executive member, Gabinda Chandra Basumatary, BTR executive members Gautam Das, Reo Reoa Narzihary, MLA Lawrence Islary, BTR MCLA Doneswar Goyary were graced as guests and distributed the aids and appliances on the occasion.
Basumatary said that the BTR Government has been emphasising to extend support and helping hand towards the welfare and uplift of the differently abled persons across the region in days to come.
BTR executive member Gautam Das told that the Social Welfare department has been stressing for carrying welfare steps for the differently abled persons and accordingly on Saturday distributed several aids and appliances among the needy peoples.
He said that the BTR Government is committed to work for the welfare and development of all sections of the society in the region.
Our Margherita correspondent adds:
'International Day of Persons with Disabilities' was celebrated on Saturday at Margherita Gandhi Vidya Mandir High School auditorium where more than 30 differently abled persons were felicitated with traditional Assamese 'Gamosa' and an appreciation certificate.
The programme was organised by Children Friends Club, Margherita in collaboration with Legal Awareness Network Centre, Margherita.
At the programme many resource and distinguished persons of Margherita such as noted social worker of Margherita, Umesh Borah, Margherita Samaboi Samity chairman and social worker Rajendra Rai, Margherita Gandhi Vidya Mandir High School headmaster Anil Singh, Adarsh Hindi Vidyalaya of Bargolai headmaster and senior journalist Ram Prasad Ambedkar, Margherita College HOD of Hindi Dr Mrinali Konwar, Jeypore Higher Secondary School, Political Science subject teacher Kashi Nath Sah, Margherita Journalists Association treasurer Mithun Baruah, ATTSA Margherita branch committee, general secretary, Nuwel Patra, noted women activist of Margherita, Anjuma Ahmed, Anita Das Mahanta, G Sarojini Aviraj Coaching Institute of Bargolai, co-founder, Avisek Kumar Beldar and Rajshekhar Ambedkar, social worker of Margherita Om Prakash Gupta, Ram Hriday Sah and Bijoy Tanti were present.
Rajendra Rai in his speech said that differently abled persons have special ability rather than other persons and we shouldn't rudely treat them.
Government provides special facilities to differently abled persons which we must co-operate in getting them those benefits said Rajendra Rai.
Kashi Nath Sah who is visually impaired and a subject teacher of Political Science at Jeypore Higher Secondary School said, "I have struggle a lot at my life and being a differently abled person, I request all those who are like me not to get disappointed and move ahead in his/her life."
Anita Das Mahanta, noted social worker of Margherita said, "I am overwhelmed to participate in a such a grand programme as I have not seen such a noble programme and appeal to the organising committee to continue their voluntarily programme for the greater cause of humanity."
All the people who were present in the programme highly appreciated the efforts of organising committee for giving so much respect to differently abled persons of Margherita sub division under Tinsukia district.
The whole programme was moderated by Papu Sah, president of Children Friends Club, Margherita.
Our Gossaigaon correspondent adds:
Under the aegis of Kokrajhar District Disabled Association the 'International Day of Persons with Disabilities' was observed here at the premises of Kachugaon Block Disabled Association with a day-long programme on Saturday.
The programme was started with the hoisting of association flag by Kaushal Kumar Roy, advisor and Jangser Basumatary, president of Kokrajhar District Disabled Association respectively.
Sofior Rahman Jotddar, working president, Kokrajhar District Disabled Association while participating the event asserted that the disabled candidate who have passed in the last Grade-III & IV examinations should be appointed without any interview and at the same time appealed to make it public the pass percentage of the disabled candidate.
He raised some of the issues for the greater interest of the disabled children including- separate educational institutions along with facilities for disabled students in every district in Assam for Higher Education and quality free education, to increase pension from Rs. 1000 to Rs. 5000 under Deendayal Divyangjan Pension, free bus travel, good sports stadium for disabled children and employment opportunities for disabled people.
The programme was largely attended by Hatidura Block Committee, Gossaigaon Block Committee, Kachugaon Block Committee, Titaguri Block Committee, Mahamaya Block Committee, local intellectuals, guardians as well as the disabled people. At the end Manoj Kumar Roy offered vote of thanks.