HT Digital
GUWAHATI, March 14: The Director General of Police, Assam G P Singh announced on his Twitter handle that 22 persons have been arrested in connection to the question paper leak incident for the ongoing High School Leaving Certificate (HSLC) examination. The arrested individuals hail from Guwahati, North Lakhimpur, Dhemaji, Sadiya, Dibrugarh, and Tinsukia. Singh further stated that lawful action has been taken against the people involved in the leakage of the question paper and the conspirators.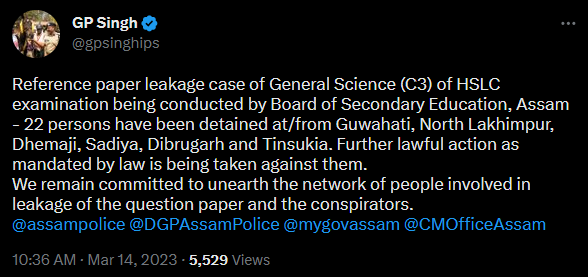 As per reports, 7 students from a Private Institute in Dibrugarh were detained by Crime Investigation Department (CID), Assam in relation to the HSLC Paper Leak scam while 10 other people including students have been taken custody.
Meanwhile, Assam CID has nabbed three individuals for involving in the paper leak incident for the General Science subject of the HSLC examination.
The three arrested persons have been recognized as two teachers named Jyotirekha Borgohain and Herambo Kumar Das, and a driver Bindeshwar Tumung.
Jyotirekha Borgohain is presently being kept at the Panbazar Police Station. The two other accused individuals are currently at the CID police station.
On Monday, a CID team began detailed investigations into the paper leak incident. The team received a clue about the culprits who were involved in the paper leaking incident. Based on the hints, the team took three persons into their custody for questioning. All three are employees of the Bhauri Devi Sarawgi High School.