HT Correspondent
JORHAT, June 21: Assam Education minister Ranoj Pegu, who is also the guardian minister of Jorhat district, led the celebrations of the 8th International Yoga Day at Jorhat Stadium on Tuesday.
Pegu, speaking on the occasion, said that yoga is beneficial for health and students should be taught yoga from a young age.
In the programme organised by Jorhat district administration and AYUSH, Jorhat deputy commissioner Ashok Kumar Barman, senior district administration and police officials, district sports officer S Terang and several others participated in the programme.
Meanwhile, the day was also observed at the Jorhat district Judicial Court campus in a programme organised under the aegis of District Legal Service Authority (DLSA), Jorhat in collaboration with Jorhat district judiciary
Devojyoti Bhuyan, secretary, DLSA, informed that judicial officers and DLSA staff, including Jorhat district and sessions judge-cum-chairman, DLSA Mridul Kumar Kalita participated.
Bhutan said that the Chief Judicial Magistrate of Jorhat, Vijay Kumar Singh attended the session as a resource trainer.
Singh described yoga as an invaluable gift of ancient Indian tradition, which embodies unity of mind and body, thought and action, restraint and fulfilment, and harmony between man and nature — a holistic approach to health and well-being.
The day was also observed at the Indoor Stadium of the main campus of Assam Agricultural University at Borbheta here. AAU VC Dr Bidyut Chandan Deka, registrar Tapan Kumar Gohain and several other officials, employees and students attended the session, which was the culmination of a week-long programme on yoga.
Commemorating the occasion, an intra-college seminar was organised at the Chandra Kamal Bezbaruah Commerce College, Jorhat. The seminar was organised by the Research and Innovation Extension Committee, Internal Quality Assurance Cell in association with the department of English and School of Management of the College. Convenor of the seminar, Dr Kironmoy Chetia informed that the seminar was chaired by Krishna Kanta Handique State Open University, Jorhat Regional Centre, assistant regional director Dr Sanjib Ghimire.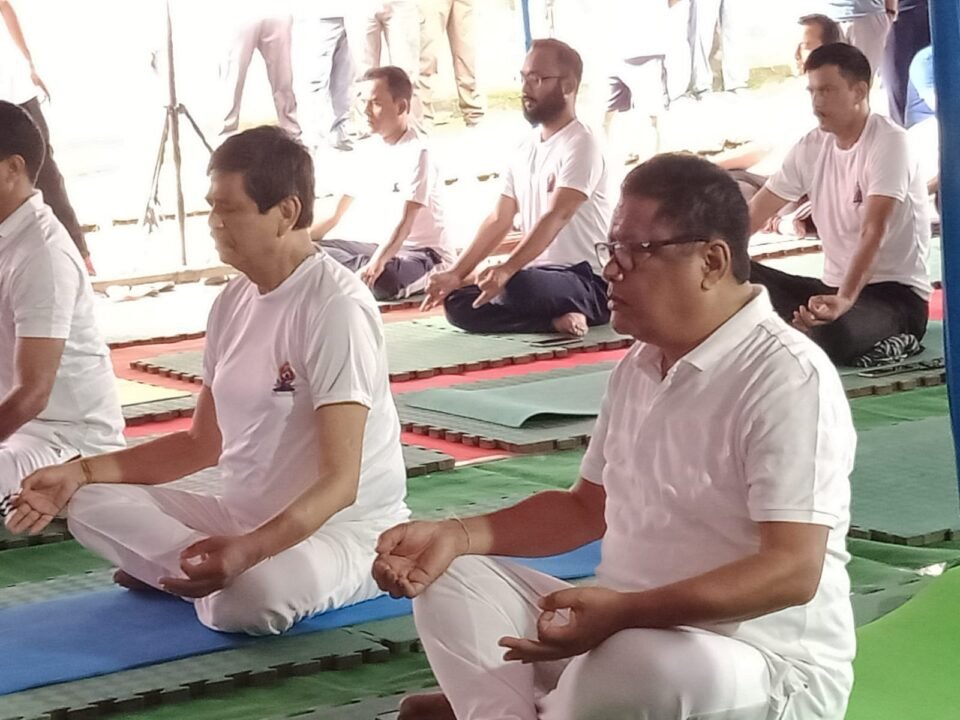 Our Tezpur Correspondent adds: The 8th International Yoga Day 2022 was observed throughout the district of Sonitpur by various organisations, educational institutes and government departments along with rest of the countries in response to Prime Minister Narendra Modi's appeal 'Yoga brings peace to the universe'. Sonitpur district administration observed the day at Tezpur College in association with Patanjali Yogpeeth and Brahma Kumaris. Minister for Housing and Urban Affairs Ashok Singhal formally inaugurated the program with the lighting of a lamp in the presence of MLA Tezpur Prithviraj Rava; deputy commissioner Deba Kumar Mishra; senior officials of the district administration and heads of various government departments and others. Sonitpur Police celebrated the day at Police Reserve, Tezpur. Additional SP (HQ), Deputy SP (HQ), Sonitpur, district police officers and personnel of the district participated in the event. Tezpur University celebrated the day in the university campus with participation of students, faculties, administrators including the vice chancellor Prof BK Jain, registrar Dr Biren Das and the university community. Including other organisations and educational setups in and around Tezpur BSNL office, Khanamukh Higher Secondary School under Khanamukh HWC in Balipara BPHC, Lokpriya Gopinath Bordoloi Regional Institute of Mental Health also celebrated the International Yoga Day 2022.
On the other hand, Tezpur MP Pallab Lochan Das participated in a yoga camp organised by Biswanath district administration at Biswanath Ghat Temple premises. The event was attended by the deputy commissioner of Biswanath district and the superintendent of police of Biswanath district along with other officials.
Our Haflong Correspondent adds: The 8th edition of the International Day of Yoga was celebrated centrally at N.L. Daulagupu Sports Complex, Haflong on Tuesday along with the rest of the nation. Chief executive member of North Cachar Hills Autonomous Council, Debolal Gorlosa participated the yoga programme along with his wife and executive members of the council Lalremsiama Darnei, Ratan Jarambusa, Projit Hojai, Nojit Kemprai and deputy commissioner Dima Hasao, Nazreen Ahmed along with her officers and staff also participated in the programme. People from all walks of life took part in this event where more than 150 people were present. The event was organised by district administration in collaboration with North Cachar Hills Autonomous Council, District Sports & Youth Welfare department, joint director of Health Services, Nehru Yuva Kendra and Art of Living, Dima Hasao.
Stressing on the importance of physical as well as mental fitness in today's world, chief guest, CEM Debolal Gorlosa said that one should dedicate at least 45 minutes a day for physical exercise. He said, "Stress at work and undesirable lifestyle have become a common factor in a person's life therefore it is very much important to practice physical activities such as yoga."
Welcoming all the participants at the stadium, DC Nazreen Ahmed spoke on the theme of this year, 'Yoga for Humanity' and highlighted the role of yoga for physical as well as mental state.
Prizes were distributed to the winners of the yoga competition held under various categories on June 15 earlier as a pre-run for Tuesday's International Day of Yoga programme. The winners of the competition will be competing at a bigger event which will be organised at Guwahati, date for which will be announced later.
CEM, Debolal Gorlosa, and deputy commissioner Nazreen Ahmed, handed over the prizes and certificates to the winners of District Level Yoga Competition. The winners are Taihamdi Hakmaosa under 10 years category; Arpit Paudel under 18 years category; Mamata Hakmaosa under 35 years category and Kajuli Warisa above 35 years category.
While four Block Level International Yoga Day programme was also organised by Nehru Yuva Kendra, Haflong Dima Hasao, Assam in collaboration with Rajaodisa Youth Club under Diyungbra block, Dee Gathar Club, Gidingpur under Maibang block, White Rose Club under New Sangbar block and local youth club under Mahur block. More than 70 youth attended the programme in each block and took part in yoga activities with the trained yoga instructors
It is to be noted that CEM Debolal Gorlosa also inaugurated the newly constructed Yoga Centre located at Ram Nagar, Haflong.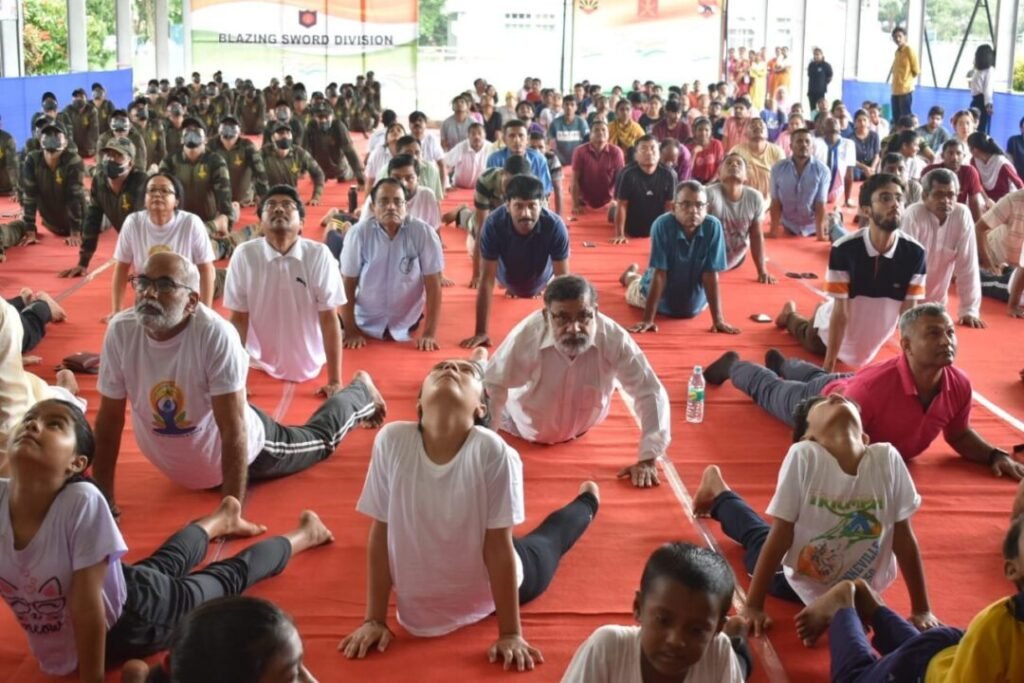 A Gauhati University release adds: Gauhati University NSS Cell celebrated International Day of Yoga on the theme 'Yoga for Humanity' on Tuesday at GU Campus in association with Vivekananda Kendra, Guwahati branch. Welcoming the guests and participants Dr Ranjan Kr Kakati, director, Students Welfare & PC NSS Cell, Gauhati University said that yoga is a way of life and yoga can be an important instrument in the collective quest of humanity for promoting sustainable lifestyle in harmony with planet earth. Inaugurating the Yoga Day, Prof Dhrubajyoti Saharia, secretary, University Classes (i/c), GU said that yoga originated in India and it has been beneficial in keeping the body and mind in sound health and appealed everyone to make yoga a part of daily life. Under the guidance of Subrata Mukherjee, karyakarta of Vivekananda Kendra demonstrated various yoga postures which were followed by all the participants. During the demonstration, Mukherjee said that the practice of 'Pranayam' regulates the purification of the internal system and the organs. He further said that the energy that is generated in the body through these physical practices is then channelled into meditation or 'dhyan' for stability, peace and calmness. Around 100 participants comprising GU faculties, NSS volunteers, participants from West Guwahati Commerce College participated in the programme. Extempore speech and quiz competitions were also organised for promoting yoga among the student fraternity.
Our Nagaon Correspondent adds: Along with the rest of the state, a day-long programme was organised by Nagaon Zila Yoga Santha in association with several organisations as well as institutions of Nagaon observed the 8th International Day of Yoga here at Nehru Yuva Kendra, Nagaon on Tuesday.
The programme was initiated with the demonstration of various yoga exercises led by prominent sportsman, sports organiser and coach – Prabhat Chandra Borah in the morning session where over hundreds of participants from various educational institutions of Nagaon town took part and also focused on the motto as well as the spirit of the celebration of the day – 'Yoga for Humanity'. Besides, the organisers also conducted a host of yoga-based sports competitions among the students.
During the open session held in the afternoon at the open auditorium of Nehru Yuva Kendra, Nagaon, the organisation also distributed various prizes among the winners.
The organisers also felicitated a slew of institutional heads of the town including Dr Sarat Borkatoki, principal of Nowgong College (autonomous), Tapan Kumar Baidya, principal of Nagaon Dawson Higher Secondary and Multipurpose School and others.
Meanwhile, the Institutional Values and Best Practices Cell of Mahapurush Srimanta Sankardev Vishwavidyalaya (MSSV) also observed the day with a day-long programme at the varsity campus here.
The vice-chancellor of the varsity professor Mridul Hazarika inaugurated the programme and assistant librarian Shekharjyoti Neog delivered the welcome address; a release added.

A Raj Bhavan press release adds: With the rest of the nation, Raj Bhavan, Assam too celebrated International Day of Yoga at its premises to promote 'Yoga for Humanity'. Assam Governor Prof. Jagdish Mukhi along with the First Lady of Assam Prem Mukhi and with the Raj Bhavan officials and yoga enthusiasts from different organisations took active part in it.
Speaking on the occasion Governor Prof Mukhi said, "Yoga is an invaluable gift of our ancient tradition which our Prime Minister Narendra Modi spearheaded to make it a global phenomenon. Yoga has always been India's unique way to remain fit. It has immense potential in enhancing the physical and mental well-being of humankind, making one's life healthy and purposeful".
The Governor also said that yoga should be kept as a part of everyone's routine. In order to get the optimum benefit of yoga one has to dedicatedly practice it. He urged everyone to include yoga in their daily life for attaining overall health. Prof. Mukhi said, "Yoga should not be confined to practicing it on the occasion of Yoga Day only. It should be practiced on a daily basis. I will be happy if the participants keep practicing yoga to attain optimum benefits of this ancient tradition to keep themselves fit and free from disease." The yoga session was actively participated by the officials of Raj Bhavan, members of the Rotary Club, CRPF personnel, Marwari Sammelan Guwahati, Byatikram Group, members of FICCI Ladies Organisation North East, Kreeda Bharati, Akhil Bharatiya Marwari Mahila Sammelan, Marwari Mahila Ekta Manch, Marwari Yuva Manch among others.

An NFR release adds: International Day of Yoga (IDY-2022) was celebrated on Tuesday throughout NF Railway in a befitting manner. Yoga practice sessions were organised at headquarters, all divisions and workshops to spread awareness among the masses about the importance of yoga and its effects upon human health. The theme for International Yoga Day – 2022 was 'Yoga for Humanity'.
The central programme of NF Railway on the occasion of the International Yoga Day-22 was organised at the Batasia loop of the world-famous Darjeeling Himalayan Railway, which is a UNESCO World Heritage Site. Darshana Jardosh, Union minister of state of Railways and Textiles was present as the chief guest on the occasion. Anshul Gupta, general manager, NF Railway along with other senior officials was present on the occasion. About 200 people, including school children, CISF, CRPF, HMI, railway officials, etc., participated in the live yoga practice along with the Union minister at the iconic UNESCO World Heritage Site. The event was celebrated at the backdrop of the snow-capped peaks of Mount Kanchenjunga.
In her speech, the minister emphasised on the need for yoga. She also endorsed the ability of yoga to bring about peace and harmony in the world.
The event started with the speech of PM Narendra Modi, via live video link to the IDY event at Mysuru, Karnataka.
In NFR Headquarters, the IDY programme was held at the Railway Indoor Stadium, Maligaon where railway officers and staff participated wholeheartedly with their family. In divisions, the IDY-2022 was observed at all important railway stations and offices. The day was celebrated with great enthusiasm with participation of thousands of railway employees and their family members all across NFR.
NF Railway used various social media platforms for the last ten days to create extensive awareness amongst common people about the benefit of doing yoga.
As everyone knows, Yoga is an invaluable ancient practice of India, with multiple physical and mental health benefits. It is globally accepted for its proven positive impact on general health and role as a stress reliever.

Our Sivasagar Correspondent adds: Union minister of state for Petroleum & Natural Gas, Labour and Employment Rameswar Teli on Tuesday took part in the International Yoga Day celebrations in historic Rang-ghar premises along with MP, Rajya Sabha, Kamakhya Pd Tassa; Dr NK Sainee, director, Archaeological Survey of India; Sivasagar DC MN Dahal; Sivasagar SP Subhrajyoti Bora; ED, ONGC Assam Asset Rajesh Sarmah and a host of other dignitaries The yoga enthusiasts were imparted yoga training by Jayanta Bez.
Teli, in his speech said that PM Modi has made yoga an internationally recognised mega event.