HT Correspondent
KOKRAJHAR, Aug 21:National Democratic Front of Boroland (NDFB-P) has expelled its former president and adviser Dhiren Boro alias B Sungthagra and former commanding officer of Eastern Zone, Fresh Mushahary alias M Fwilao from outfit for their attempt to divide and destabilise the organisation and its allied organisation.
In a press statement, NDFB-P president Gavinda Basumatary alias B Swmkhwr and general secretary S Sanjarang said the organisation has enough evidence that both the leaders were working against the interest of the organisation.
"The national council meeting of NDFB-P held on August 17 condemned the evil design of the two leaders and passed a unanimous resolution for their expulsion from the outfit. Hence, they are no more the members of the organisation and the NDFB-P has nothing to do with them and will not be responsible for whatever statement they make or whatever activities they do," the statement said.
"We would like to appeal the people of all circles irrespective of caste, creed and languages to take notice of this with serious concern in order that no one fall prey of deceit," the statement also said.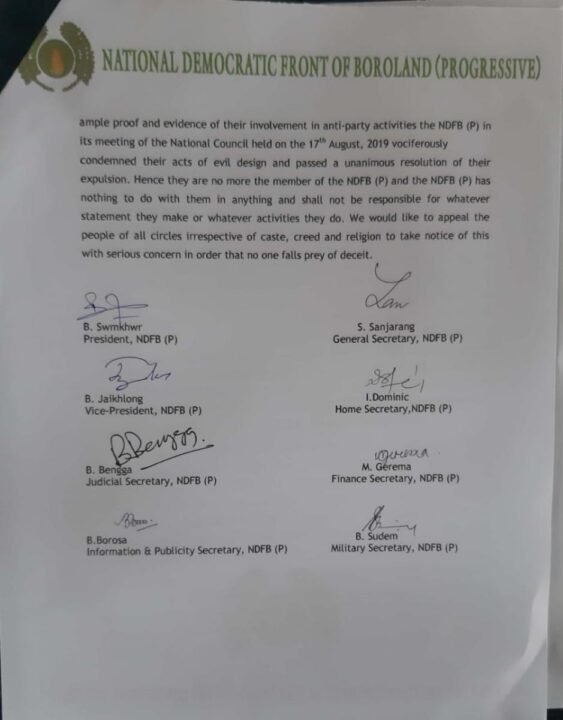 The NDFB-P has been on peace process with the Union government for the last 15 years to resolve the Bodo people's long standing demand of Boroland under Article 2 and 3 of the Constitution of India.
"The dialogue with the Centre is going on in a positive direction. We are hopeful that the BJP-led government would resolve the Boroland issue soon. We believe BJP's policy of creating smaller states for speedy development, to do away regional disparity of socio-economic development, to ascertain god and effective governance and also for a permanent peace and security of the nation," it said.
"We welcome the Union government's decision for granting Union Territories to Ladakh and Jammu & Kashmir and consider it as first step in implementing BJP's party policy. We appeal to the government that such a decision or action should not be confined to Jammu and Kashmir," the statement further said.