HT Digital
GUWAHATI, March 15: In a joint operation, the Assam police and Assam Rifles Battalion seized enormous quantities of fake ₹2000 currency notes from a residence in the Patharkandi area of Karimganj.
The counterfeit ₹2000 rupee notes with a face value of ₹15,44,000 were recovered by police. An individual has been nabbed in this connection. The arrested person has been recognized and is a resident of South West Kewti village of Patharkandi.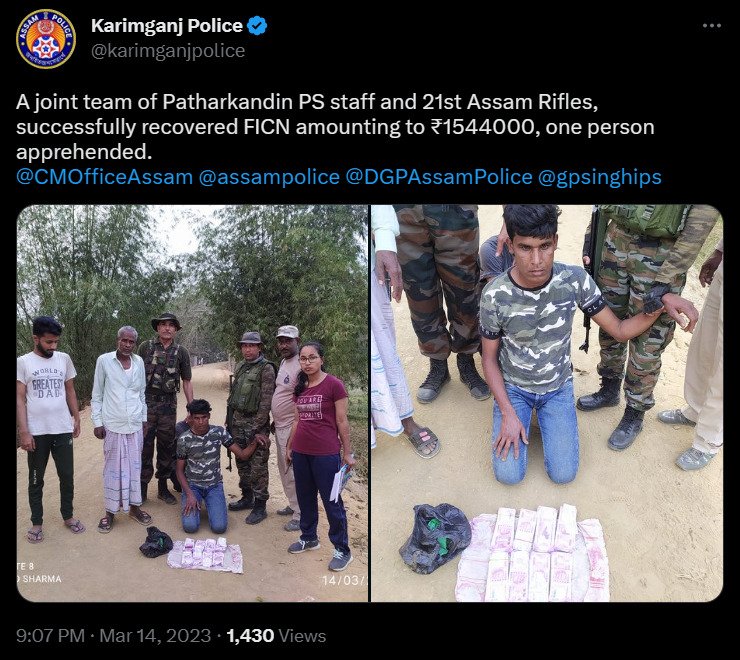 A joint operation was conducted at the house of the accused on Tuesday evening and the fake currency notes were recovered inside his home after which he was arrested.
Superintendent of police (SP) of Karimganj district, Partha Pratim Das informed that there is a suspected racket that provides fake Indian currencies and the matter is now under investigation.
Radhanagar Battalion of 21 Sector Assam Rifles also stated that the fake Indian currency notes were handed over to police soon after recovering from a local resident and are also inspecting the case. Police have been interrogating the accused and they suspect that more persons could be involved in such unlawful activities.