GUWAHATI, March 2: The Directorate of Vigilance and Anti-Corruption branch of Assam today arrested a Lat Mandal from the Office of Koliabar Revenue Circle, Nagaon. The Lat Mandal named Pranjal Bora has been caught accepting demanded bribe money from the complainant on the grounds of processing as well as issuing Land Sale Permission to the complainant.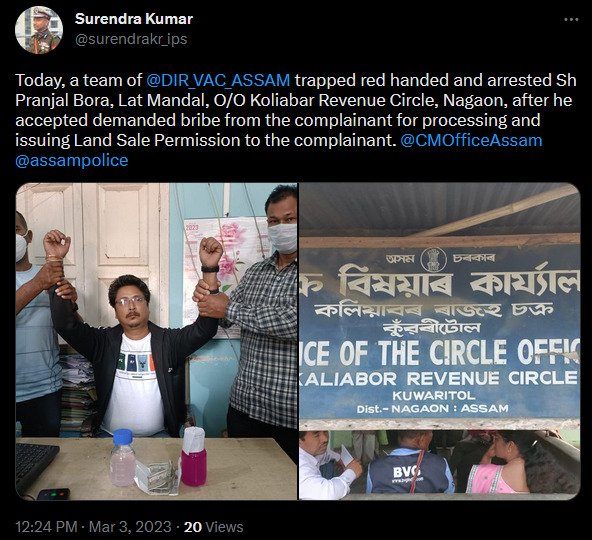 Vigilant investigators carried out a trap in the office complex after a complaint was registered pertaining to the processing of land documents following which Bora was arrested for his alleged involvement in corruption activities.
Followed by yet another arrest, the Directorate of Vigilance and Anti-Corruption cell today has caught a senior assistant red-handed for receiving a bribe from the complainant for processing his Pension File. Bidyadhar Das, the Senior Assistant, has been working at the Office of the Registrar, Cooperative Society, Khanapara.
The third trap of the day was held at Matia Block where the vigilance watchdog nabbed Basit Sarkar, Block Elementary Education Officer for receiving demanded bribe from the complainant for signing his Bank Laon (personal) documents.
Earlier on Thursday, the vigilance branch apprehended a Lat Mandal along with his driver on grounds of accepting bribe money in Sonapur. As per reports, the anti-corruption cell carried out a raid at Sonapur's Office of the Circle Officer. In course of the raid, the branch arrested Lat Mandal immediately and his car driver, who has been identified as Rajesh Roy and Rantu Kalita respectively.